BKT50 Peak Lapel Tuxedo Jacket in Super 110s - Navy with Satin Lapel
Regular price

$860.00

Sale price

$925.00

Unit price

per
SIZE GUIDE
 This is the navy version of our most classic tuxedo: our favorite navy super 110s wool we have been using for years accented with a matching black satin, making both colors pop. This tux will be your go-to for any formal occasion. 

FABRIC AND TRIMS: 
Super Super 110s wool plainweave woven in Italy by Vitale Barberis Canonico

9.17 Oz Weight

SEASONALITY:

 

Suitable for year-round use in most climates

COLOR:

 Navy

BUTTONS:  Covered in accent fabric

ACCENT FABRIC: Black satin on lapel, hip pockets, and buttons

LINING:  Fully lined in gray/white stripe
COORDINATES WITH: Click here to view the matching trouser. Jacket and trouser are sold separately, and can be purchased in different sizes if required.
HOW IT FITS

Our BKT50 Tuxedo Jackets are designed with a sharp, slim fit, but never too tight.  The shoulder is natural and narrow, and the torso has a contoured shape designed to sit close to the body while allowing plenty of room for movement. The length of the jacket is moderate, designed to not quite cover the entire seat.
It has the same fit, quality and construction as our BKT50 Tailored Suit Jackets, but with different styling and details.  
DETAILS

Half-canvas construction
Peak lapel
Slightly structured shoulder for a sharp yet natural tailoring
One button closure
Sleeves come with fully functional vents and buttons sewn on (without buttonholes). This allows for buttonholes to be optionally added by your local tailor after adjusting sleeve length if so desired. 
Welt pocket on chest / double-besom pockets at hips (without flaps) / 4 interior pockets
Double back vent
Made in Portugal
CARE

Dry clean as necessary
Steam and press to remove wrinkles
SPECIAL ORDER INFO

When selecting a size to add to your cart, items noting IN STOCK are ready for immediate shipment. If a size says SPECIAL ORDER, it will ship within five weeks, if not sooner. Please read below for additional details and policies for Special Order items:

IN STOCK items are ready to ship, and will typically be dispatched within two business days of ordering. They are also typically available for curbside pickup within two business days, or available to try on / purchase at our studio location (by appointment).
SPECIAL ORDER items are not immediately in stock. When you place the order, we immediately begin making that item at our tailoring workshop. Special order items typically ship within five weeks, if not sooner. Once you place your order, you will receive an email from us with an estimated ship date.
SPECIAL ORDER items are returnable / exchangeable according to the same return policy as IN STOCK purchases.
If you place an order for some IN STOCK and some SPECIAL ORDER items, we will hold your IN STOCK items until your SPECIAL ORDER items are ready to ship, and ship everything together. If you would like items shipped separately, please contact us via email to make arrangements. Additional shipping charges may apply.
SPECIAL ORDER items are not customized. Even though they are made-to-order, they are not considered a custom item and cannot be customized in any way. However, they can of course be altered by your local tailor. If you are able to visit us in New York, we can assist with alterations at an additional cost after your item arrives. If you are interested in ordering a custom item, we do offer custom clothing. Contact us to make an inquiry or schedule an appointment.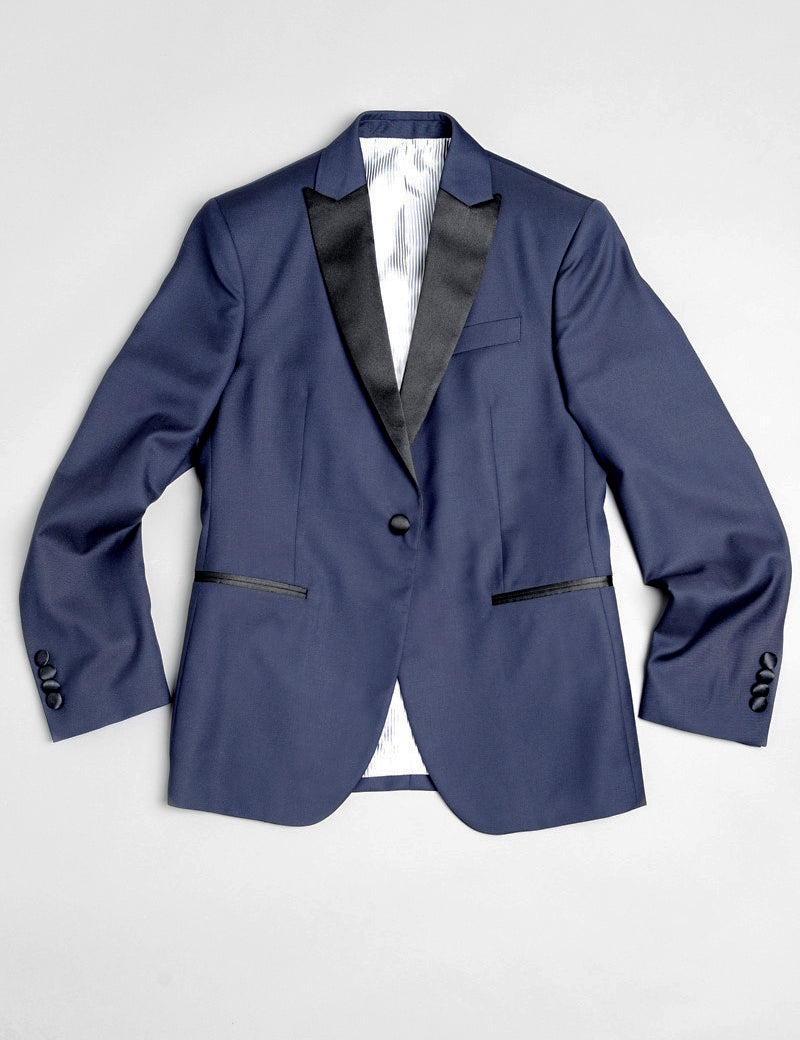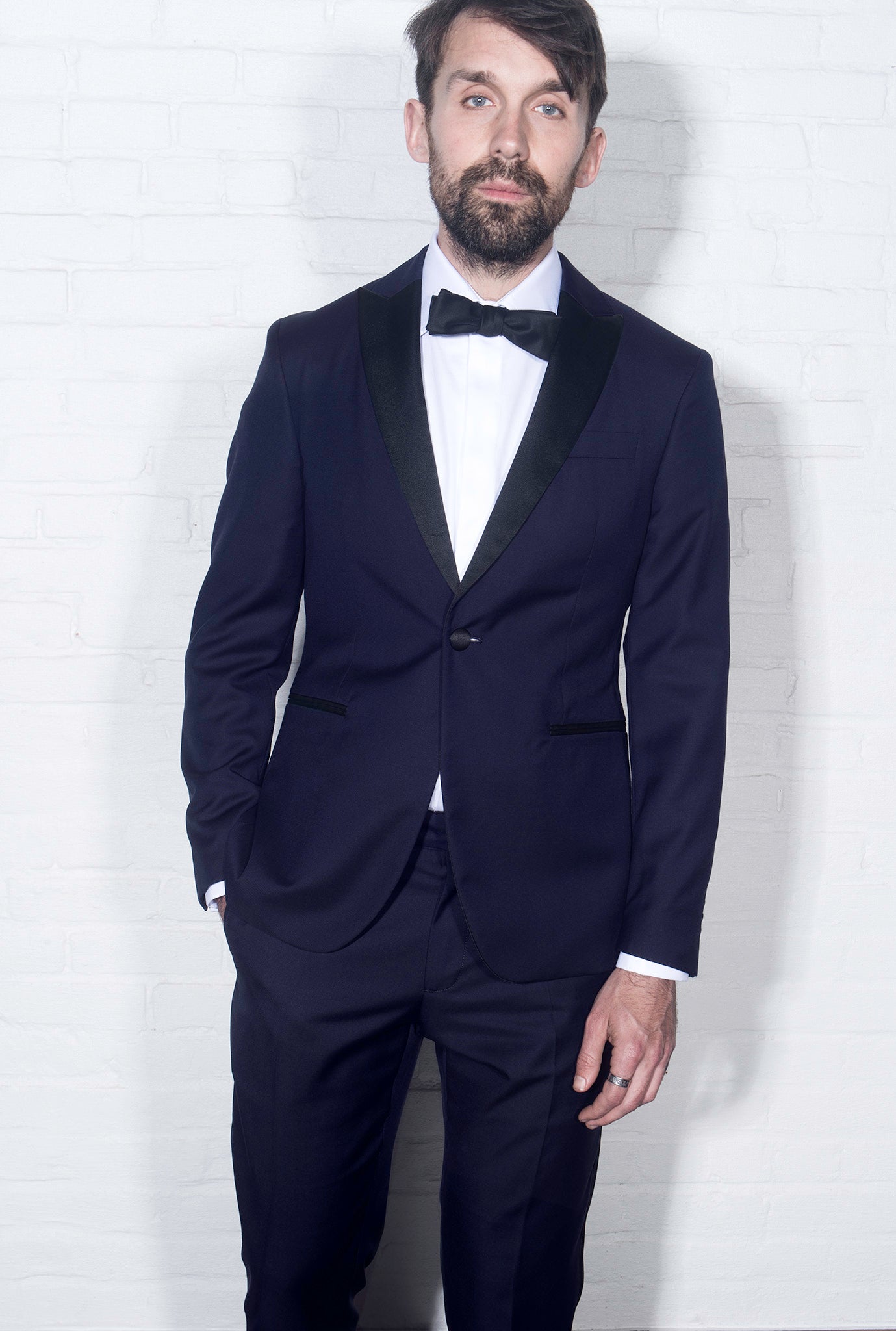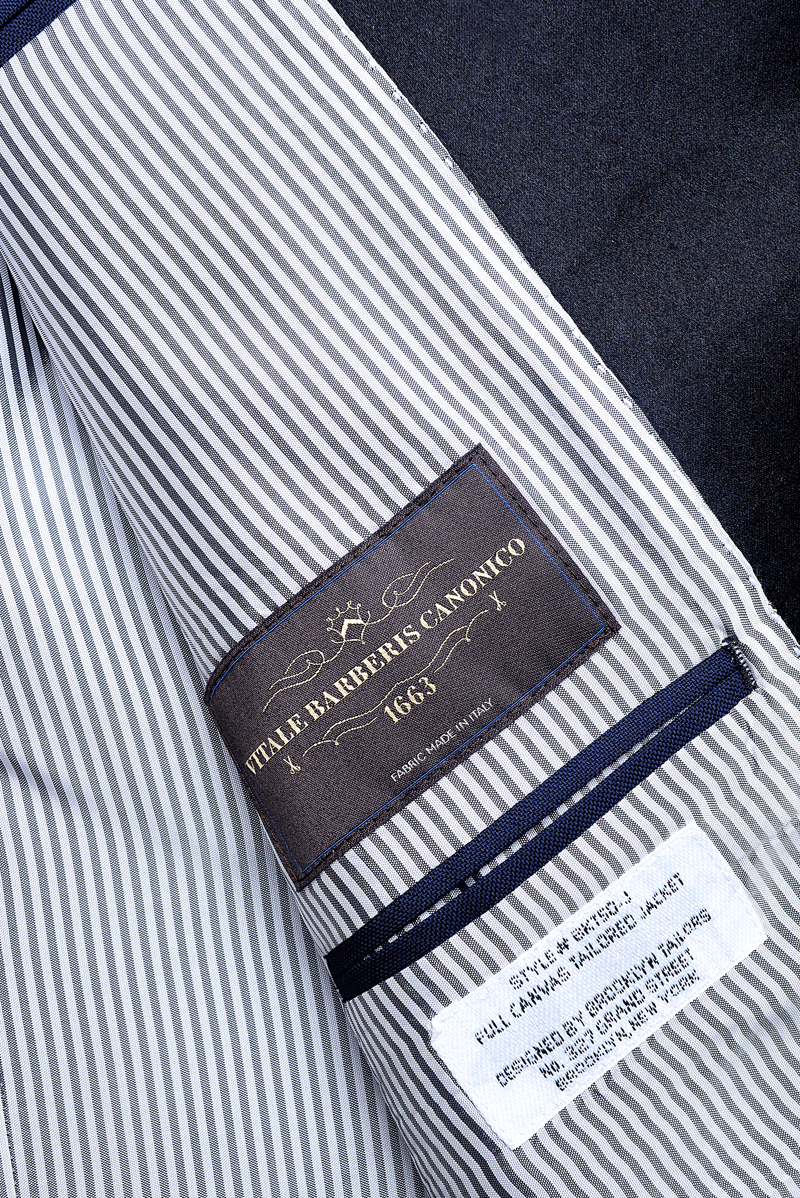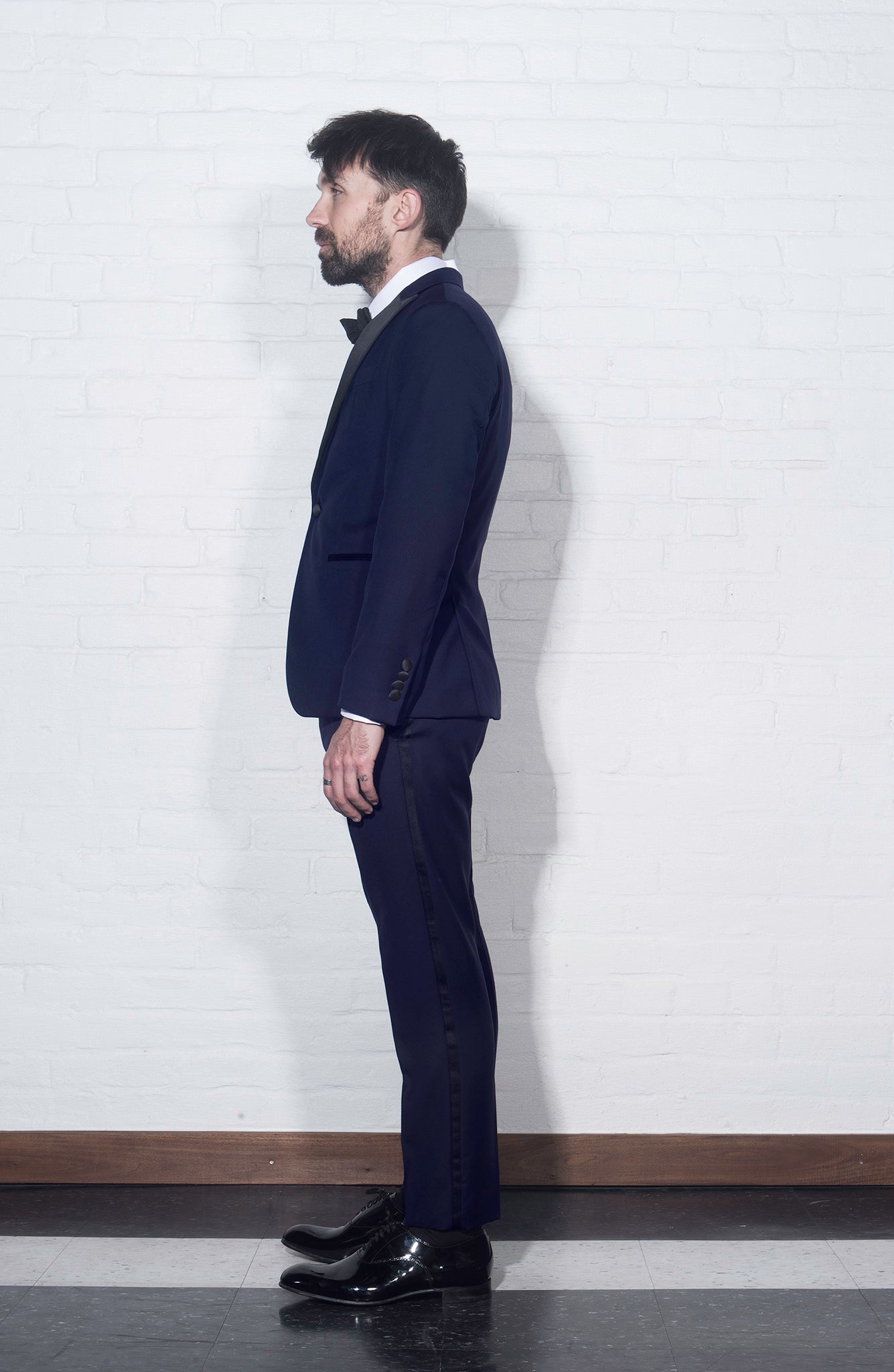 SIZE GUIDE - BLAZERS / SUIT, TUX & DINNER JACKETS
Brooklyn Tailors clothing is sized by a number system (01, 02, 03, etc).  Use the below chart to see how our sizing system converts to other commonly used sizing scales. Scroll down further on this page for additional sizing information to help you select the best size.
SIZE CONVERSION:
| | | | | | | | | |
| --- | --- | --- | --- | --- | --- | --- | --- | --- |
| BROOKLYN TAILORS | 01 | 02 | 03 | 04 | 05 | 06 | 07 | 08 |
| US / UK JACKET SIZING | 34 | 36 | 38 | 40 | 42 | 44 | 46 | 48 |
| EU / ITALY JACKET SIZING | 44 | 46 | 48 | 50 | 52 | 54 | 56 | 58 |
| UNIVERSAL SIZING | XS | S | S/M | M/L | L | L/XL | XL | XL/2XL |
GARMENT MEASUREMENTS:
The below chart provides measurements taken from our garments. You can compare them with items you already own, to help choose your ideal size.  
| | | | | | | | | |
| --- | --- | --- | --- | --- | --- | --- | --- | --- |
| SIZE | 01 | 02 | 03 | 04 | 05 | 06 | 07 | 08 |
| SHOULDER | 16.5" | 17" | 17.5" | 18" | 18.5" | 19" | 19.5" | 20" |
| CHEST | 18.75" | 19.75" | 20.75" | 21.75" | 22.75" | 23.75" | 25" | 26.25" |
| WAIST | 16" | 17" | 18" | 19" | 20" | 21" | 22.25" | 23.5" |
| SLEEVE LENGTH | 23" | 23.25" | 23.5" | 24" | 24.75" | 25" | 25.5" | 25.75" |
| JACKET LENGTH | 27" | 27.5" | 27.75" | 28" | 28.5" | 29" | 29.5" | 29.75" |
Garment measurements are in inches.
Instructions for taking measurements are provided below.  When measuring at home, please follow these instructions as closely as possible to ensure you are measuring in a similar way:

SHOULDER:

The shoulder is measured slightly to the back, below the back of the neck and above the shoulder blades. With the jacket on a hanger, with the front of the jacket facing away from you, place tape measure at the left shoulder seam (where the sleeve is attached to the jacket body) approximately 1 inch behind the top shoulder seam (the seam running along the top of the shoulder) and run the tape across to the right shoulder seam.

CHEST:

The chest is measured just under the armholes.  Often referred to as a "pit to pit" measurement.  With the jacket laying flat on a table, and the buttons closed, smooth the fabric to remove slack.  Tug on it gently before measuring to ensure it is as smooth as possible. Place the tape measure directly under the armhole (where the underside of the sleeve joins the jacket body) and measure straight across to the other side.  

WAIST:

The waist is the narrowest part of the torso, below the chest and above the hips.  With the jacket laying flat on a table and the buttons closed, smooth the fabric to remove slack.  Place the tape 1 inch above the top button and measure straight across.

SLEEVE LENGTH:

With the jacket on a hanger, place the tape at the top of the sleeve (where it joins the jacket body) 1 inch behind the top shoulder seam (same as when you measured the shoulder).  Run the tape down the sleeve to the hem.

JACKET LENGTH:

With the jacket on a hanger, and you facing the rear of the jacket, place the tape at the center / back of the jacket, where the collar edge is (not the top of the collar where it folds over, but the edge of it, where it overlaps the back panel of the jacket).  Run the tape straight down the center back seam to the back hem.  

The above measurements apply to the following Brooklyn Tailors styles:

BKT50 Tailored Jacket
BKT50 Tuxedo Jacket
BKT50 Dinner Jacket
BKT35 Unstructured Jacket

While the above-mentioned styles have similar overall measurements and fit, each have different construction, stylistic details, and attributes that will affect the way the garment drapes and shapes the body.  Check each individual product listing for additional details specific to that item.
ALTERATIONS:
As with most tailored clothing, our suits are constructed in a way that allows them to be altered by your local tailor to fine-tune the fit to your needs. While a wide array of alterations can be performed on our jackets, below is a list of the most common alterations, along with a rough approximation of how much the garment can be taken in or let out. The below list should only be considered a rough guide, as specifics are up to the discretion of your tailor.
JACKET BODY:  The body / torso of the jacket can be let out or taken in to allow more or less room around the chest, waist, stomach and hips.  It can be let out nearly one size larger, taken in one size smaller.
SLEEVE LENGTH:  Unless otherwise noted in the specific product listing, our jackets come without buttonholes on the sleeves.  This is to allow for the sleeve length to be more easily altered by your tailor if needed.  After altering sleeve length, if you desire, your tailor can also add functional buttonholes on the sleeves. However this is not required and is completely up to your choosing. Sleeves can be lengthened up to approximately 0.75 inches and can be reduced up to 4 inches.  Note that reducing the sleeves more than 1 inch may require re-construction of the sleeve vent, which is at the discretion of your tailor.
If you have questions about any other alterations, please contact us via email with your questions and we will be happy to consult and advise.  We recommend finding a reputable tailor near you to assist with alterations.